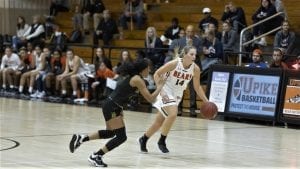 The University of Pikeville women's basketball Bears will host Rio Grande (Ohio) in a 6 p.m. tipoff tonight at the Appalachian Wireless Arena.
Coach Clifton Williams' squad is looking to improve to 5-0 after scoring wins this past weekend in the Appalachian Wireless Classic.
VOLLEYBALL
Bears fall at Cumberlands
University of Pikeville volleyball took it on the chin at Cumberlands on Sunday, falling 3-0.
Noelani Simpson had 11 kills and 10 digs in the 25-7, 25-22 and 25-17 match loss. Megan Frazier had four kills and one block.
UPIKE travels to Kentucky Christian University on Tuesday. Senior Day is set for 2:30 p.m. Saturday at the UPIKE Gymnasium against Cumberland, Tenn.
FOOTBALL
Clark  named Bluegrass Division Player of the Week
University of Pikeville wide receiver Arties Clark was named Mid-South Conference Offensive Player of the Week.
He caught four passes for 67 yards and three touchdowns in the Bears 27-0 shutout win over Cumberland (Tenn.) this past weekend.
It was his first weekly honor of his career and UPIKE's first of the season in the Bluegrass Division.
GOLF
Women sign Martin County's Davis
UPIKE women's golf has signed another recruit from what has become a pipeline for the program.
Martin County's  Mallory Davis has signed a scholarship agreement to play golf.
Davis is a six-year varsity athlete on the golf team where she has qualified for the All "A" State tournament all six years. She won the All "A" regional championship in 2017 and finished fourth this past season.
Maupin named MSC Golfer of the Week
University of Pikeville freshman Blake Maupin has been named Mid-South Conference Golfer of the Week.
He finished tied for third at the Alice Lloyd College Eagle Invite last week. Maupin finished four-over par, with his lowest round of 70 scored on the first day.
It was his first honor and UPIKE's first this season.
UPIKE golf closed out the fall slate and will return to the course this spring.
BOWLING
Women finish  second at Brunswick Southern Collegiate
The University of Pikeville women came close but finished just short of picking up its first Tier 1 event win of the season, finishing second at the Brunswick Southern Collegiate over the weekend.
UPIKE stayed right on the tail of first place SCAD-Savannah all through the tournament's 24 baker games but finished just over 200 pins back after the two days.
The Bears stayed in second place through most of the first day thanks to a pair of top-10 finishes individually in the team games from Lauren Piotrowski and Jessica Wolfe.
Piotrowski finished second overall by just four pins after bowling three games of 247 or more in her first five. Her total pin fall was 1,294 for a tournament average of 215.
Men finish 10th at Brunswick Southern Collegiate
UPIKE men's bowling faced its first Tier 1 event over the weekend and finished 10th out of a loaded 34 team field.
Pikeville was the second finisher among Mid-South Conference teams, 236 pins away from Martin Methodist, who finished seventh.
Matteo Cittadino was the top Bear in the team games, individually bowling a 1,324 across the six games. He finished in ninth overall and was the top MSC competitor. Cittadino bowled over 200 in five of the six games, including a high game of 266.
SOFTBALL
Bears post 13th highest team GPA
University of Pikeville softball was recognized as one of the top academic teams in the nation after landing 13th in NAIA.
The Bears as a team posted a 3.491 GPA for this past academic year.
Team members were Alexis Hall, Ashonda Underwood, Brooke Layne, Caitlynn Estevez, Carrie Griffin, Elizabeth Hickey, Emme Barker, Haley Karr, Haley Osborne, Hannah Skaggs, Jordan Gentry, Katie Jo Campbell, Kirsten Moore, Mackenzie Pawlak, Maggie Scheffer, Makayla Hall, Megan Claypoole and Mercedes Boggs.