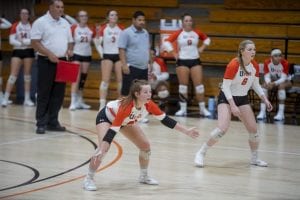 UPIKE's struggles continued Saturday as it fell in straight sets to Cumberland (Tenn.), 3-0 (25-12, 25-20, 25-17).
The Bears couldn't get much going on offense in the first set, totaling just three kills. Pikeville's attack percentage was just .074 for the entire match.
Set two was much more of a back-and-forth affair. UPIKE jumped out to an 8-6 lead before Cumberland went on an 8-1 run. However, Pikeville immediately answered with an 8-2 run to tie the set back up. From there, the Pikeville offense sputtered to let the Phoenix take a two-set lead.
UPIKE's offense became its own worst enemy in the final set with seven kills, but also seven errors. Coupled with Cumberland's most efficient set offensively, and the Bears couldn't pull off a comeback.
Noelani Simpson led the team with seven kills, while Leigh Simpson had 14 assists and Sarah Clark had nine digs and two assists.
SOCCER
Men snap losing skid
UPIKE men's soccer got back into the win column in resounding fashion on Friday night with a 3-0 win against Johnson University.
The Bears dominated the game both offensively and defensively, outshooting the Royals 26-3, and 13-1 in shots on target.
After six shots either went wide or were saved, Eric Bernabeu tight roped the end line and set a pass across the six-yard box to Aaron Aven who had an easy tap-in.
Less than 10 minutes later, Billy Quiteno almost went coast-to-coast, showing his ball-handling skills weaving past multiple defenders before putting the ball in the net.
UPIKE's final goal of the match came in the later stages of halftime after Bernabeu launched a breakaway chance and was taken down by the last defender to earn a penalty kick. Bernabeu used a strong stutter step move to throw the keeper off and send the kick lightly down the middle.
UPIKE goes back on the road next week, beginning with an MSC matchup at Cumberland (Tenn.) in Lebanon, Tenn.