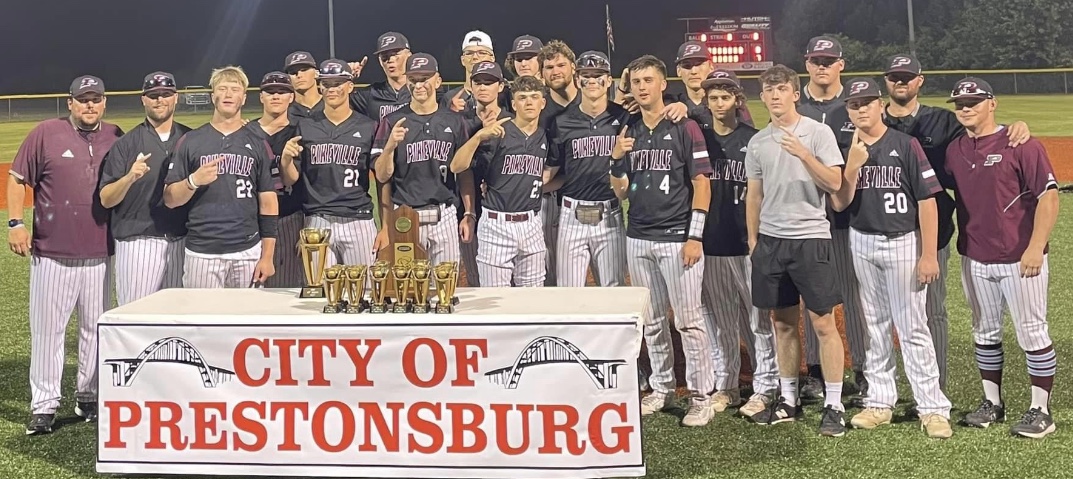 The 15th Region baseball championship trophy is back in Pikeville after 11 seasons.
The Panthers went to extra innings for the second straight game and beat two-time defending champion Johnson Central, 8-7, to secure the school's 10th regional title on Wednesday night.
Bradyn Hall put down a perfect bunt to score Jackson Hall who broke on the play, scoring the game-winning run in the top of the eighth. Hall earlier had a two-run single.
Wade Hensley doubled in a run in the seventh to tie it at 7. Hensley also singled and walked, scoring both times.
Starting pitcher Dylan Thompson singled and walked twice. He had an RBI and scored two runs. Bash Ryan had a pair of RBI singles and scored.
Johnson Central's Cole Ward belted a solo home run, singled twice, walked, and drove in two runs. Logan Morrow doubled in a pair of runs, singled, and was hit by a pitch to force in a run.
Pikeville, 24-11, will open play in Lexington against the Region 10 winner (Campbell County or Harrison County) on June 2.Gavin Crum 1b, 1r, 1 RBI, Johnson Central.
At StoneCrest
(15th Region championship)
SCORE BY INNINGS: R-H-E
PK (24-11)….100 410 11 – 8-9-1
JC (22-15)…..002 032 00 – 7-9-3
Pitching:
WP – Jackson Hall
LP – Brock Butcher
Hitting: Wade Hensley 2b, 1b, bb, 2r, 1 RBI; Dylan Thompson 2-1b, 2-bb, 2r, 1 RBI; Jackson Hall 1b, 1r, 2 RBI; Bradyn Hall 1b, 1 RBI; Jeb Wilkerson 1b, 1r, 1 RBI, Pikeville; Cole Ward HR, 2-1b, bb, 1r, 2 RBI; Logan Morrow 2b, 1b, 3 RBI, Johnson Central.