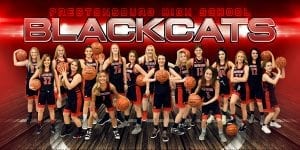 When Prestonsburg head coach Brandon Kidd took over the girls' basketball program this past season he wanted to build a solid foundation.
The work continues this season as the Lady Blackcats prepare to tipoff the season in early December.
He said his team needs to compete on a high level and the team is carrying a chip on its shoulder.
"Nobody expects them to be good," Kidd said, beginning his  10th season as a coach. "We are excited to see how the season plays outs."
Prestonsburg finished 20-11 one year ago. Top returners include Alivia Slone, Alison Campbell, Celina Mullins, Faith Lazar and  Grace Trusty.
Top newcomers include Destiny Elliott and Lexi Skeens.
The Lady Blackcats open the season at Letcher County Central  on Dec. 5.
Prestonsburg schedule
Dec. 5              Letcher Central           Away
Dec. 7              Wolfe County             Home
Dec. 9              East Ridge                  Home
Dec. 10            Magoffin County        Home
Dec. 14            Peggy Moore Classic
Breathitt County Away
Dec. 17            Floyd Central              Away
Dec. 27-29      Christmas at the Capital
Brown, TBA, TBA, Frankfort at Frankfort
Jan. 3               Betsy  Layne               Home
Jan. 7               Lawrence County       Away
Jan. 11             15th Region All  "A' Classic
TBA, Appalachian Wireless Arena
Jan. 15             Belfry                          Away
Jan. 20             Jenkins                        Away
Jan. 21             Paintsville                    Away
Jan. 24             Lawrence County       Home
Jan. 27             Cordia                         Home
Jan. 28             Johnson Central          Home
Jan. 31             Betsy Layne                Away
Feb. 1              Jenkins                        Home
Feb. 4              Paintsville                    Home
Feb. 7              East Ridge                  Away
Feb. 11            Cordia                         Away
Feb. 14            Floyd Central              Home
Feb. 15            Wolfe County             Away
Feb. 18            Belfry                          Home
Feb. 20            Phelps                          Home
Feb. 21            Magoffin County        Away