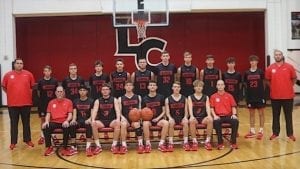 Lawrence County head basketball coach Chandler Thompson makes no bones about it when it comes to keys for this team this season – buy into defense and finishing offensive possessions which result in points.
"If we are able to do those two things [staples to success] we will be fine as a team," he said.
The Bulldogs are coming off a 22-8 record one year ago and return a trio of double-figures scorers, led by senior Tyler Maynard (20.6 ppg.). Add to the mix junior Cody Maynard  (16.8 ppg.) and senior Chase Sartin (10.3 ppg.) and Thompson's team can put up big numbers.
Other top returners include seniors Alex Ratliff and C.J. Fairchild, along with junior Baden Gillispie.
He will also look to top newcomers' sophomores Trenton Adkins and Bryce Blevins, along with freshman players Kaden Gillispie and Will Lafferty for quality playing top off the bench.
Lawrence County opened its season Dec. 3.
Lawrence County schedule
Dec. 3              East Carter                  Away
Dec. 6              Martin County            Away
Dec. 7              Phelps                          Home
Dec. 10            Paintsville                    Home
Dec. 13            Betsy Layne                Home
Dec. 14            Boyd County Classic  Away
Boyd County
Dec. 17            Belfry                          Away
Dec. 20            Derby Classic              Away
TBA at Raceland High School
Dec. 27            Ashland Invitational   Away
Ashland Blazer
Jan. 4               Kentucky 2A championship
sectional tournament vs. Belfry at TBD
Jan. 7               Prestonsburg               Home
Jan. 8               Morgan County          Home
Jan. 11             Magoffin County        Away
Jan. 14             Johnson Central          Away
Jan. 17             Floyd Central              Away
Jan. 24             Prestonsburg               Away
Jan. 25             Phelps                          Away
Jan. 28             Lewis  County            Home
Jan. 31             Floyd Central              Home
Feb. 4              Martin County            Home
Feb. 7              Betsy Layne                Away
Feb. 12            Johnson Central          Home
Feb. 15            Pikeville                      Home
Feb. 17            Bath County                Away
Feb. 21            Ashland Blazer            Away