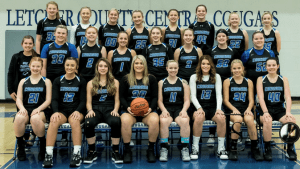 The Letcher Central Lady Cougars were 20-10 during head coach Keith Baker's second year leading the program.
Spring forward to the 2019-20 season and LCC could make some noise in the 14th Region thanks to eight top returners from one year ago.
"We need to make the extra pass, learn to team rebound and improve defensively," Baker said. "If we do those things we'll be fine."
Top returnees include Brooklyn Collins, Makenzie Craft, Makaylee Banks and Brooke Bates, along with Loren Boggs, Kiera Couch, Courtney Hayes and Cammie Collins.
The Lady Cougars will open the season at home against Prestonsburg on Dec. 5.
Letcher Central schedule
Dec. 5              Prestonsburg                         Home
Dec. 7              Powell County                        Away
Dec. 9              Johnson Central                   Home
Dec. 13            Mountain Mission, Va.        Home
Dec.  14           vs. Betsy Layne                      Home
Pine Mountain Classic
Dec. 16            Leslie County                         Away
Dec. 19-21      Smoky Mountain Classic
TBA, TBA, TBA, Gatlinburg, Tenn.
Dec. 26-28      Berea Holiday Classic
Woodford County, TBA, TBA, at Berea
Jan. 2               Cordia                                     Away
Jan. 3               Harlan                                     Home
Jan. 8               June Buchanan                        Home
Jan. 10             Breathitt County                     Home
Jan. 13             East Ridge                              Home
Jan. 17             Knott Central                          Home
Jan. 18             Madison Southern                   Home
Jan. 20             Central, Va.                             Home
Jan. 23             Perry Central                           Home
Jan. 24             June Buchanan                        Away
Jan. 25             Martin County                        Away
Lady Hawk 1-day Showcase at Pike County Central
Jan. 30             Hazard                                    Away
Feb. 1              Knott Central                          Away
Feb. 3              Harlan County                        Away
Feb. 5              Cordia                                     Home
Feb. 8              Lee County                             Away
Feb. 10            Shelby Valley                         Away
Feb. 11            Pike Central                            Away
Feb. 13            Pikeville                                  Away