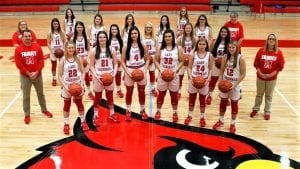 Martin County head basketball coach Robin Newsome was content to be outside the rim of leading the Lady Cardinals program.
When former Sheldon Clark head coach Tim Rice lost his life in a tragic automobile accident earlier this year she suddenly found herself back in a role she held for 25 seasons.
She brings to the table for the 2019-20 season more than 500 wins.
"I've been out of coaching for seven years," she said. "I felt obligated to the school, and especially my friend [Tim] to come back."
The Lady Cardinals are coming off a 13-15 season one year ago, having been eliminated in the 57th District tournament by Magoffin County.
Martin County returns senior Madison Thompson, one of the top players in the 15th Region. She led the state in rebounding (407 for an average of 14.5 rpg) and scored 16 points per game. Back is senior Kristen Isaac, who has already signed to play at Alice Lloyd College. She scored nine per game and as many rebounds. Junior Lakyn Porter is a third returning scoring threat.
Top newcomers include sophomores Graci Synder, Brittany Thompson and Lynndsey Cassell and eighth-grader Alyssa Allen.
Martin County opened its season on Dec. 2.
Martin County schedule
Dec. 2              Pike Central                Away
Dec. 7              KDMC Tip-Off  Classic
at Greenup County
Dec. 10            Magoffin County        Home
Dec. 13            Paintsville                    Away
Dec. 16            Belfry                          Home
Dec. 19-21      Execute to Impact Shoot-Out
at Daytona Beach, Fla., TBA
Dec. 27-29      Gateway Holiday Classic
Estill County, TBA, TBA, Montgomery Co.
Jan. 4               Chapmanville              TBD
Jan. 6               Phelps                          Away
Jan. 10             15th Region All 'A' Classic
Shelby Valley at Appy Wireless Arena
Jan. 13             Greenup County         Away
Jan. 14             Betsy Layne                Home
Jan. 17             Paintsville                    Home
Jan. 21             Floyd  Central             Away
Jan. 24             Johnson Central          Home
Jan. 25             Lady Hawk 1-day Shootout
Letcher Central at Pike County Central
Jan. 28             Pike Central                Home
Jan. 31             Magoffin County        Away
Feb. 3              Johnson Central          Away
Feb. 8              Jackson City Prep Classic
Morgan County at Jackson City
Feb. 10            Belfry                          Away
Feb. 11            Floyd Central              Home
Feb. 17            Phelps                          Home
Feb. 19            Fleming County          Away
Feb. 21            Lawrence County       Away