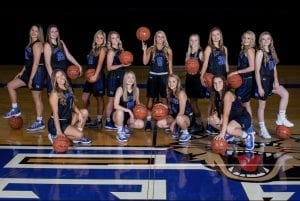 Shelby Valley is set to open the 2019-20 season without Kentucky signee Cassidy Rowe, who is recovering from her second torn ACL injury.
Although her status remains up in the air, head coach Lonnie "Doe Doe" Rowe will turn his focus to veterans Tori Hampton (senior), Alyssa Newsome (senior), Laci Johnson (junior) and  sophomore Alyssa Elswick to carry the bulk of the load.
Rowe said his team needs to get and stay healthy to have success. He added once his newcomers get adjusted to varsity basketball his squad will be fine.
The Lady Cats, who finished 18-16 one year ago, lost to Johnson Central in the 15th Region semifinals.
Newcomers Kelsey Owens, Jazzy Meade and Zoee Johnson will be needed to help this team return for a run at the championship.
Shelby Valley will open its season against Jenkins at home on Dec. 2.
Shelby Valley schedule
Dec. 2              Jenkins                        Home
Dec. 3              Harlan County            Away
Dec. 7              Knott Central              Away
Dec. 9              Mountain Classic
at Knott Central vs. Floyd Central
Dec. 12            Mountain Classic
At Knott Central vs. TBA
Dec. 19            Lawrence County        Home
Dec. 20            East Ridge                    Away
Dec .26-28      Price/Watkins Holiday Tourney
at Fleming County vs. TBA, TBA, TBA
Jan. 3               Martin County             Away
Jan. 4               Pikeville                        Home
Jan. 6               Johnson Central          Home
Jan. 10             All 'A' Classic at The Arena
vs. Martin County
Jan. 14             Harlan County            Home
Jan. 18             MLK Jr. Classic
at George Rogers Clark vs. Scott
Jan. 20             Knott Central             Home
Jan. 24             East Ridge                  Home
Jan. 25             Lady Hawk 1-day Showcase
Leslie County at Pike County Central
Jan. 30             Pikeville                      Away
Feb. 3              Lawrence County       Away
Feb. 7              Jenkins                         Away
Feb. 8              Jackson City Prep Classic
TBA at Jackson City
Feb. 10            Letcher Central           Home
Feb. 11            Betsy  Layne                Home
Feb. 14            Hazard                          Away
Feb. 18            Perry Central              Away
Feb. 21            Menifee County          Home