Holler Boys……..21
Boyle County…..20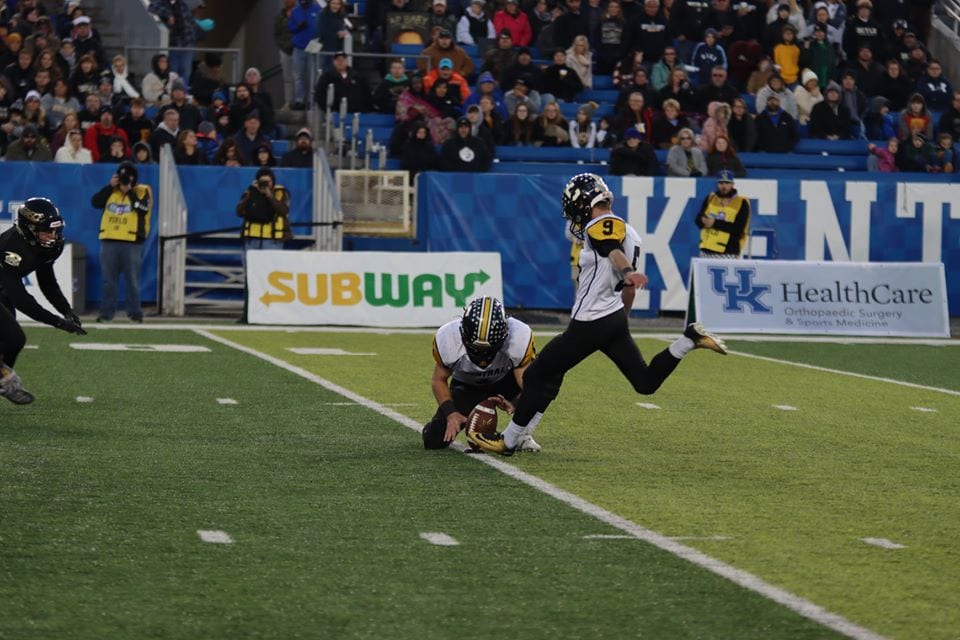 Johnson Central head football coach Jim Matney stayed classy all week.
Boyle County school administrators, students and fans did anything but with their remarks.
It lit a fire under the Golden Eagle football team that couldn't be extinguished Saturday evening at Kroger Field as Johnson Central used a late defensive stand to stun Boyle County, 21-20, before a crowd of nearly 10,000 fans to capture the Class 4A title.
It was the second championship in a five-year state championship run for the Holler Boys and capped off a perfect 15-0 season. The Rebels finished 14-1.
"We beat a great team and a great coach," Matney said. "They [Boyle] don't realize how much mountain boys have big hearts."
Running back Devin Johnson scored on a 22-yard run with 6 minutes, 46 seconds left before halftime to pull the Golden Eagles even at 7-all. Johnson rushed 11 times for 49 yards.
Running back Dillon Preston, who carried 15 times for 97 yards, tied the game again at 14-all with a two-yard run with 25 seconds left before the break.
The Golden Eagles scored what would be the winning points when running back Cody Rice scored on a 12-yard run with 3:58 to play in the third period. Jake Headly booted his third PAT kick, including the game-winning point. Rice rushed 16 times for 46 yards.
Boyle County pulled within 21-20 but a missed PAT kick kept the Golden Eagles on top.
Johnson Central held Boyle County to its lowest offensive output all season long. The Rebels were averaging almost 53 points per game. 
At Kroger Field
(Class 4A championship)
SCORE BY QUARTERS:
JC (15-0)……0   14    7   0 – 21
BC (14-1)…..7     7    6   0 – 20
Scoring:
First Quarter
BC – Riley Colewick, 6-yard pass from Reed Lanter (Jackson Smith kick), :57
Second Quarter
JC – Devin Johnson, 22-yard run (Jake Headly kick), 6:46
BC – Will McDaniel, 1-yard run (Jackson Smith kick), 2:47
JC – Dillon Preston, 2-yard run (Jake Headly kick), :25
Third Quarter
JC – Cody Rice, 12-yard run (Jake Headly kick), 3:58
BC – Reese Smith, 3-yard pass from Reed Lanter (kick failed), :15
Fourth Quarter
No scoring
PHOTO CREDIT: Todd Conley