Steiner selected for one of college sports' most prestigious awards after record-setting season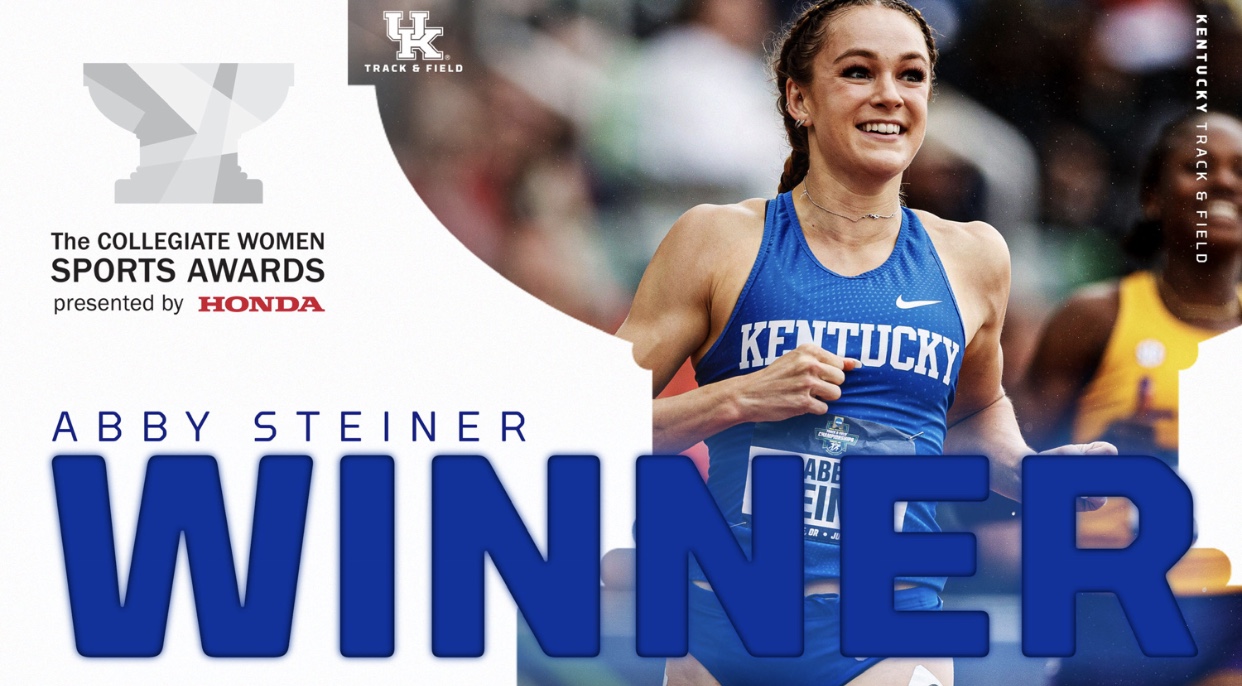 Kentucky track & field senior sprinter Abby Steiner has been chosen as the winner of the Honda Sport Award for track & field,Chris Voelz, Executive Director of the Collegiate Women Sports Awards (CWSA) announced on Thursday.

Steiner was chosen by a vote of administrators from over 1,000 NCAA member schools. Finalists included Anna Hall (Florida), Jasmine Moore (Florida) and Camryn Rogers (Cal).
Steiner is coming off NCAA titles in the 200-meter dash and 4x400m relay last weekend, after winning the indoor 200m at the NCAA Indoor Championships in March.
In the 2021-22 track & field season, Steiner has earned the following accomplishments:
200m American & collegiate indoor record holder (22.09)
200m outdoor collegiate record holder (21.80)
Member of collegiate record outdoor 4x400m relay (3:21.93)
NCAA outdoor 200m and 4x400m titles
NCAA and SEC 200m title (indoors)
NCAA silver and SEC bronze in the 60m
NCAA bronze in 100m (11.08)
NCAA 4x400m relay bronze (indoors)
Seventh fastest 100m runner in collegiate history
SEC Indoor T&F Women's Runner of the Year
SEC Indoor & Outdoor Scholar-Athlete of the Year
USTFCCCA Southeast Region Women's Indoor Runner of the Year
Four-time SEC Women's Runner of the Week
Five-time USTFCCCA Athlete of the Week
Seven-time school record holder (60m, 100m, indoor 200m, outdoor 200m, 300m, indoor 4x400m, outdoor 4x400m)
Seven Bowerman Watchlist appearances