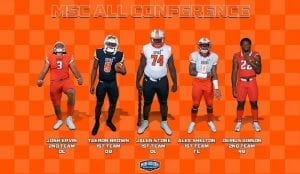 As UPIKE took another step forward this season, five players were honored among the league's elite named All Mid-South Conference athletes this week.
Senior defensive back Taeron Brown,  junior offensive lineman Jalen Stone and sophomore tight end Alexander Shelton were named to the First Team All Mid-South Bluegrass Division team.
Brown had a spectacular end to his storied UPIKE career. He leaves the program with the fourth-most tackles in school history (260), fifth-most interceptions (7), eighth-most pass breakups (14), and holds a record that can never be broken with a 100-yard interception return for a touchdown in his senior day game against Bethel.
In a position that's difficult to quantify, Stone served as the anchor of an offensive line that allowed just 20 sacks all season and helped contribute to a rush offense that tallied 165 yards per game.
Shelton, meanwhile, served as the jack of all trades for the Bears, scoring at least one touchdown in all three offensive fashions. He was UPIKE leading receiver on the season with 38 receptions for 542 yards and four touchdowns. Shelton also lined up as quarterback in UPIKE's "wildbear" formation and got four scores on the ground. He also completed his only pass attempt out of that formation for a touchdown.
Sophomore defensive end Josh Ervin sophomore running back Derius Gibson were both named to the Bluegrass Division's Second Team.
Ervin made his name as a premier edge rusher this year with 23 total tackles, including five tackles for loss and two sacks.
Gibson made his mark when forced to step up into the starting running back role. He was UPIKE's leading rusher on the year with 782 yards and eight touchdowns. Gibson also caught seven passes for 58 yards.
UPIKE went 5-5 overall on the season and 4-3 in the division, good for a third-place finish after being picked to finish sixth.