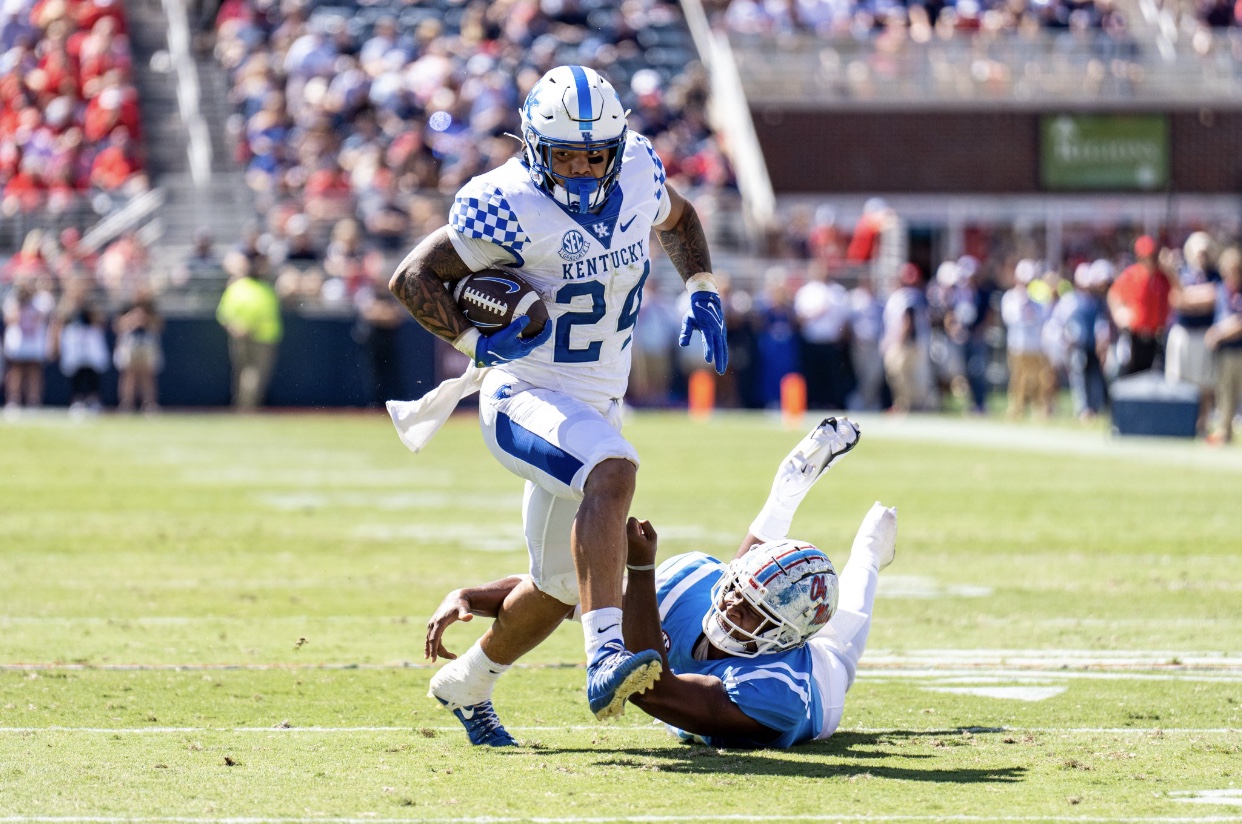 Kentucky had not one but two late chances to score against Ole Miss in the game, but fumbles were costly as the Wildcats fell to the Rebels, 22-19, at Vaught-Hemingway Stadium on Saturday afternoon.
The loss ended an eight-game winning streak as the seventh-ranked Wildcats dropped to 4-1. The Rebels, ranked 14th coming in, moved to 5-0.
Quarterback Will Levis passed for 220 yards and two touchdowns. Running back Chris Rodriguez, playing in his first game this season, carried 19 times for 72 yards and one touchdown – a 10-yard run on the final play of the opening period.
Receiver Barion Brown hauled in two passes for 81 yards. His 85-yard kickoff return set up UK's first points. Tayvion Robinson and Jordon Dingle had a TD reception each.
Kentucky failed on an extra point kick and two-point conversion pass, missed a 39-yard field goal and was called for an illegal motion that wiped out a potential game-winning TD pass in the closing minute.
The Wildcats will return home to host South Carolina (3-2) at 7:30 pm next Saturday before a sellout crowd at Kroger Field. 
At Oxford, Miss.
SCORE BY QUARTERS:
UK (4-1)…..6 6 7 0 – 19
MS (5-0)….14 5 3 0 – 22
Scoring:
First Quarter
MS – Zach Evans, 4-yard run (Jonathan Cruz kick), 7:09
MS – Quinshon Judkins, 48-yard run (Jonathan Cruz kick), :59
UK – Chris Rodriguez, 10-yard run (kick block), :00
Second Quarter
MS – Safety, intentional grounding, 10:28
MS – Jonathan Cruz, 53-yard field goal, 7:03
UK – Tayvion Robinson, 5-yard pass from Will Levis (pass failed), 1:23
Third Quarter
UK – Jordan Dingle, 17-yard pass from Will Levis (Matt Ruffalo kick), 6:22
MS – Jonathan Cruz, 26-yard field, 2:19
Fourth Quarter
No scoring
Next up: Kentucky (4-1) vs. South Carolina (3-2), 7:30 pm, Oct. 8.