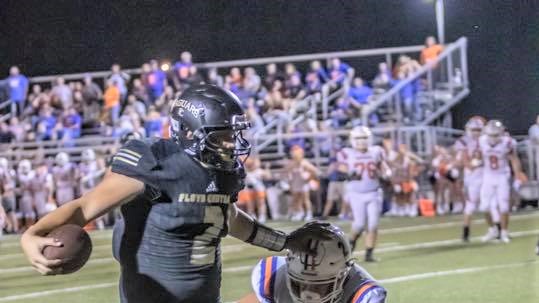 Floyd Central quarter Caleb Hager rushed for 124 yards on 19 carries and running back Brant Potter hauled in a touchdown pass and ran for another as the Jaguars beat Prestonsburg, 22-12, in a matchup played at Josh Francis Field on Friday night.
Running back Trenton Hatfield added a rushing touchdown as Floyd Central improved to 2-0. Hatfield opened the scoring with a 10-yard run one minute into the second quarter.
Hager also passed for 80 yards, including a 24-yard scoring strike to Potter. It put the Jaguars up 15-6 at the break. Potter hauled in four passes for 53 yards and rushed for 63 yards on four carries.
Prestonsburg's first points came on quarterback Brayden Slone's eight-yard run with 7:33 left in the opening half. He finished with 98 yards on 11 rushes and two scores.
Slone's second TD run of 28 yards in the third period pulled the Blackcats, now 0-2, to within 15-12.
Potter's 47-yard run with 2:56 left to play iced the win. Hager kicked a pair of PATs and rushed for a third.
Both teams return to action on Sept. 25 as Floyd Central journeys to Pike County Central (0-2) and Prestonsburg visits East Ridge (0-2). Both games are set to kickoff at 7:30 p.m.
At Prestonsburg
SCORE BY QUARTERS:
FC (2-0)…..0 15 0 7 – 22
PB (0-2)…..0 6 6 0 – 12
Scoring:
First Quarter
No scoring
Second Quarter
FC – Trenton Hatfield, 10-yard run (Caleb Hager kick), 11:00
PB – Brayden Slone, 8-yard run (kick failed), 7:33
FC – Brant Potter, 24-yard pass from Caleb Hager (Caleb Hager run), :02
Third Quarter
PB – Brayden Slone, 28-yard run (run failed), 8:28
Fourth Quarter
FC – Brant Potter, 47-yard run (Caleb Hager kick), 2:56
Next up: Floyd Central (2-0) at Pike County Central (0-2); Prestonsburg (0-2) at East Ridge (0-2), 7:30 p.m., Sept. 25.