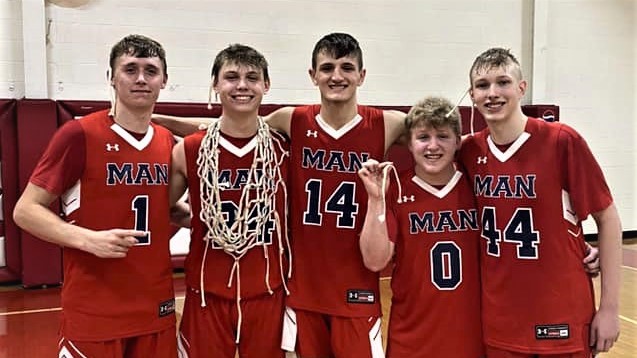 Man took advantage of a second-chance opportunity as the Hillbillies punched their ticket to the boys' Class A state tournament with a 64-51 road win over Wahama in the Region IV co-final title game played on Wednesday night.
The top-ranked Hillbillies, now 13-2, lost to second-seed Tug Valley in the sectional finals and was forced to play and win on the road.
Man is headed back to the state's biggest stage for the first time since 2012.
Austin Ball paced the Hillbillies with 23 points and Caleb Blevins tossed in 15. Jackson Tackett followed with nine and Jeremiah Harless added eight.
At Wahama
(Class A, Region IV championship)
SCORE BY QUARTERS:
MN (13-2)….13 17 26 8 – 64
WH (7-13)…..9 15 9 18 – 51
Scoring:
Man (64) – Austin Ball 23; Caleb Blevins 15; Jackson Tackett 9; Jeremiah Harless 8; Ryan Cozart 5; and Christian Toler 3.
Wahama (51) – Josiah Lloyd 15; Sawyer VanMatre 13; Bryce Zuspan 10; Ethan Gray 9; Harrison Panko-Shields 4; and Michael VanMatre 4.
Next up: Man (13-2) vs. Tucker County (12-5), Class A state tournament, Charleston Civic Center Coliseum, 5:30 p.m., Tuesday.