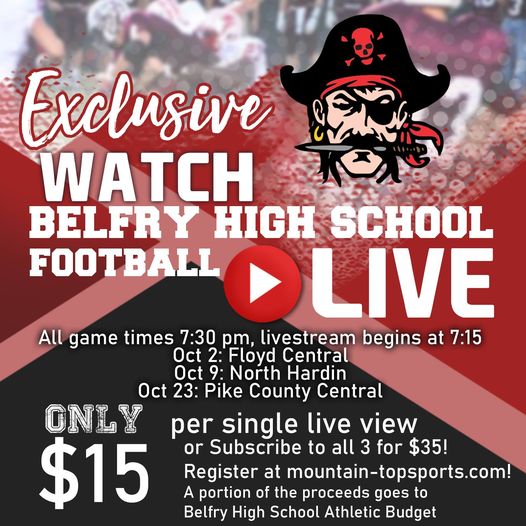 Mountain Top Media (MtM) President Cindy May Johnson announced an agreement between MtM, Bit Source, and Belfry High School to provide for exclusive rights to live stream the school's home football games.
"We are excited to start this partnership with Belfry High School and look forward to providing their fan base with livestream coverage of football games," Johnson said.
MtM will live stream the matchup with Floyd Central on Oct. 2; North Hardin on Oct. 9 and Pike County Central on Oct. 23.
The cost is $15 per single live view or fans can purchase all three games for $35.
Register at mountain-topsports.com. A portion of the proceeds goes to Belfry High School's athletic budget.
"This is a great way for our fans, who are unable to get into the games because of COVID-19 restrictions, to have access to watching it with our radio broadcast crew calling the games," BHS legendary head football coach Philip Haywood said.