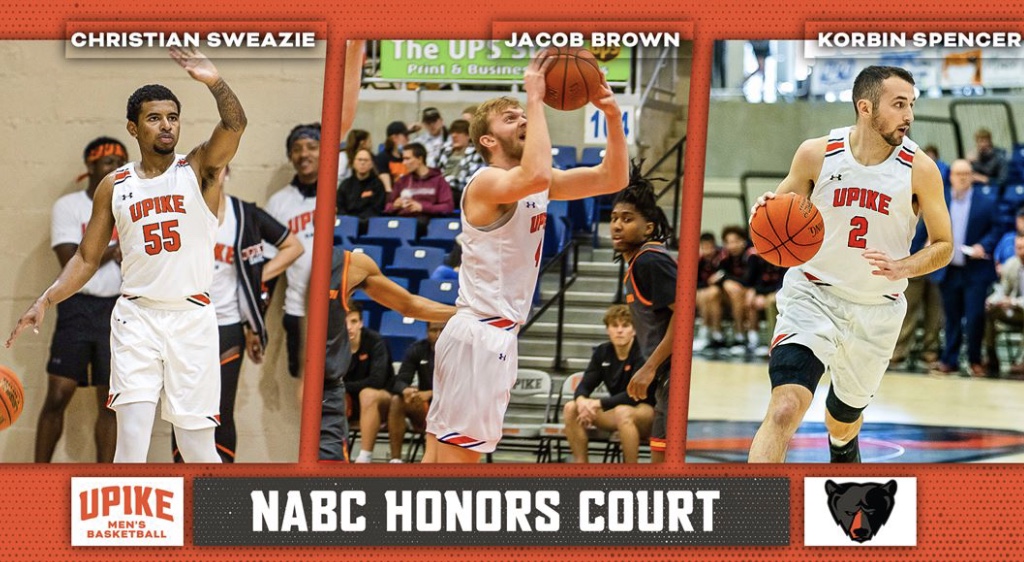 The National Association of Basketball Coaches (NABC) released the 2021-22 NABC Honors Court on Tuesday, featuring Christian Sweazie, Jacob Brown, and Korbin Spencer of UPIKE men's basketball.
The NABC honors court represents outstanding achievement in the classroom by collegiate men's basketball athletes across all levels. Limited to junior, senior, and graduate student men's basketball players, athletes must have finished the season with a cumulative GPA of 3.2 or higher.
Spencer claims the honor in his first year being eligible, the Sandy Hook, Ky. native has also been named Academic All-MSC for two consecutive seasons. Following the 2021-22 campaign, Spencer was named Honorable Mention All-MSC following a season where he averaged 9.9 points, 4.5 rebounds per contest.
Also named Academic All-MSC in both the 2020-21 and 2021-22 seasons, Sweazie claimed his first NABC academic award. Sweazie was plagued by injury much of the 2021-22 season, still managing 105 points in 29 appearances. In 2020-21, Sweazie led the Bears in three pointers made, averaging nine points per game.
Brown, also a two time Academic All-MSC selection, completes the trio of NABC recipients. Brown, a criminal justice major, played an important role in the post for the Bears this past season. He finished with a 64.2% clip from the field which was third in the MSC, averaging over nine points per contest.