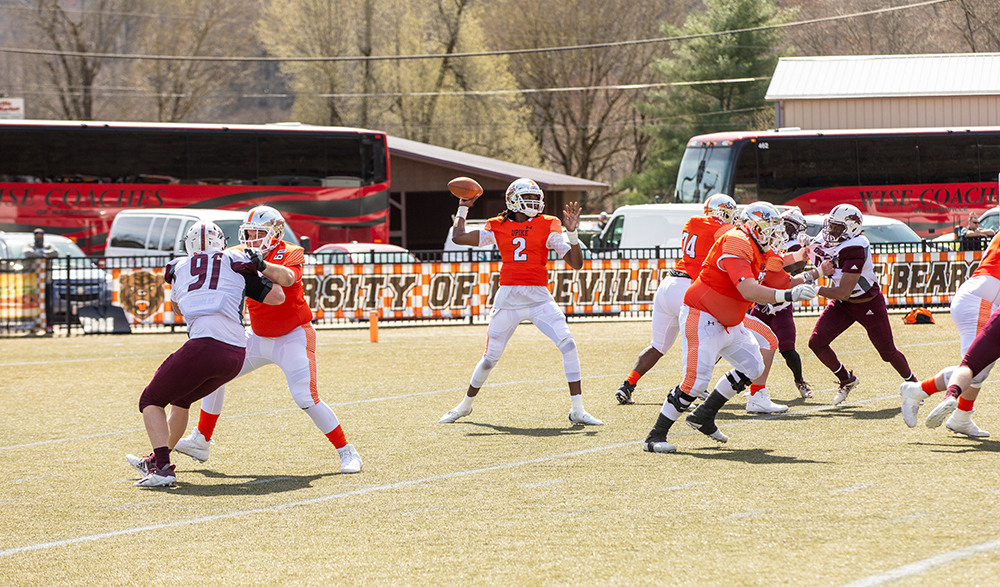 University of Pikeville quarterback Trevor Wofford passed for two touchdowns and running back Jayden Neace ran for two others as the Bears rallied past Cumberland University, 38-13, in a game played at Hambley Athletic Complex on Friday.
Wofford passed for 199 yards and Neace ran for 124 as the Bears improved to 2-2.
Receiver Victor Johnson hauled in five passes for 94 yards and one score while Arties Clark had four receptions for 65 yards and a touchdown.
Running back Ardian Medacco added 70 yards rushing on eight carries.
At Pikeville
SCORE BY QUARTERS:
CU (0-5)…..13 0 0 0 – 13
UP (2-2)……7 14 14 3 – 38
Scoring:
First Quarter
UP – Ben Henson, 88-yard kickoff return (Jake Headly kick), 14:46
CU – Sheppard, 7-yard run (kick failed), 9:37
CU – Alex Valdez, 8-yard run (Noah Mason kick), 1:01
Second Quarter
UP – Jayden Neace, 19-yard run (Jake Headly kick), 8:50
UP – Victor Johnson, 25-yard pass from Trevon Wofford (Adonis Ables kick), 1:06
Third Quarter
UP – Jayden Neace, 13-yard run (Jake Headly kick), 13:41
UP – Arties Clark, 30-yard pass from Trevor Wofford (Jake Headly kick), 8:19
Fourth Quarter
UP – Jake Headly, 19-yard field goal, 5:30
Next up: UPIKE (2-2) at Bethel University (3-1), 7 pm, Mar. 26.