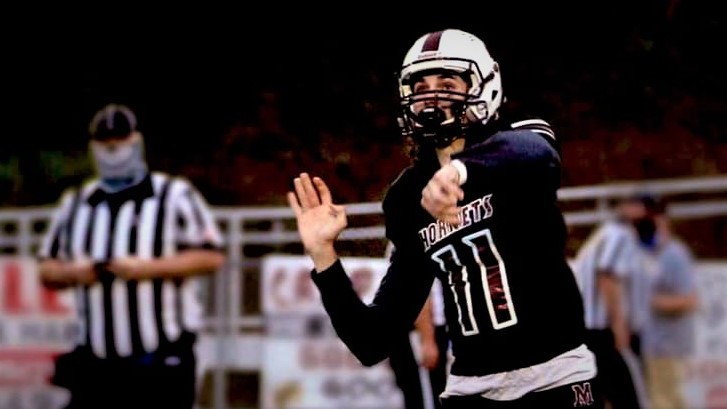 Magoffin County quarterback Lucas Litteral becomes the first area football player to win back-to-back Buffalo Wild Wings Player of the Week honors in the history of the award.
He passed for 338 yards and four touchdowns and rushed for 170 yards and three touchdowns, seven total in a 76-54 win over Pike Central on Friday night.
Special honorable performances:
Chapmanville Regional quarterback Brody Dalton ran for 169 yards and five touchdowns and passed for 117 yards and a sixth score as Chapmanville beat Wayne. He had TD runs of 9, 35, 12, 8 and 31 yards.
Mingo Central running back Norman Kennedy ran for 194 yards and three touchdowns, and he hauled in three passes for 94 yards and a fourth score as the Miners beat Shady Spring.
Magoffin County wide receiver Aden Barnett caught six passes for 202 yards and four scores. He also returned a kickoff for a touchdown and recovered a fumble in the endzone for another.
Pike Central running back Matt Anderson rushed for 303 yards and five touchdowns.
Shelby Valley running back Ethan Bentley ran for 168 yards and four touchdowns in the Wildcats win over East Ridge.
Honorable mention:
Pikeville quarterback Isaac McNamee passed for three touchdowns and running back Blake Birchfield finished with 106 yards and two scores as the Panthers blanked Phelps.
Logan quarterback Jordan Hayes passed for 197 yards and two touchdowns, both to Carson Kirk, covering 51 and 53 yards. Kirk hauled in six catches for 157 yards in a 14-12 loss.
Mingo Central quarterback Caden Porter passed for 204 yards and a pair of touchdowns.
Martin County running back Dawson Mills ran 17 times for 109 yards and one score in the Cardinals road loss at West Carter.
Prestonsburg running back Carter Akers rushed for 117 yards and one touchdown on 18 attempts in the Blackcats 21-20 loss at Bath County.
Pike Central quarterback Tayvian Boykins rushed for 165 yards and two touchdowns He also passed for another.
Shelby Valley's Jayden Newsome had 177 yards and two scores. Quarterback Russ Osborne passed for 172 yards and a touchdown while rushing for another score.
East Ridge quarterback Dylan Burdine passed for 167 yards and two touchdowns.
Belfry running back Isaac Dixon ran 20 times for 186 yards and a pair of touchdowns in the Pirates win over Lawrence County. Dre Young added 57 yards and two scores.
Betsy Layne quarterback Chase Mims passed for 195 yards and ran for two touchdowns in the Bobcats loss at Paintsville.